Flaviatex
Your textile partner.
Flaviatex was born in 1975 in Castel Goffredo (MN): at the beginning it operated in the textile market of women's hosiery by becoming distributor of the Golden Lady brand. Over the years, the product sectors have expanded towards the development of collections and the related production of different types of textile products.
Products
Quality, Service, research.

Homewear, Beachwear and underwear
Flaviatex specializes in the study of fashion trends, in the creation of collections and in private label production for numerous important retail chains.

Sportswear
Private label and for our brand CI.Zero: seamless and cut and sewn garments designed and created specifically for the sport for which they will be used. And not only! Ci.Zero garments are also suitable for workers, thanks to the thermo regulating, breathable and odor-control properties.
Learn more

Wearable garments
In this field, the keyword is constant INNOVATION. The TECHNOLOGY that has been developed and patented in our internal studio allows the textile garment to communicate with an electronic device through the employment of sensors/electrodes.

Hosiery
In this field Flaviatex takes its first steps, and still maintains the distribution of the Golden Lady brand in Bosnia-Herzegovina.
Private Label
Contact us to develop and produce garments for your brand. We will give you our full support.

Product development

Production

Packaging

Logistics
Quality and research
Yarns/Fabrics, weaving techniques, dyeing process etc...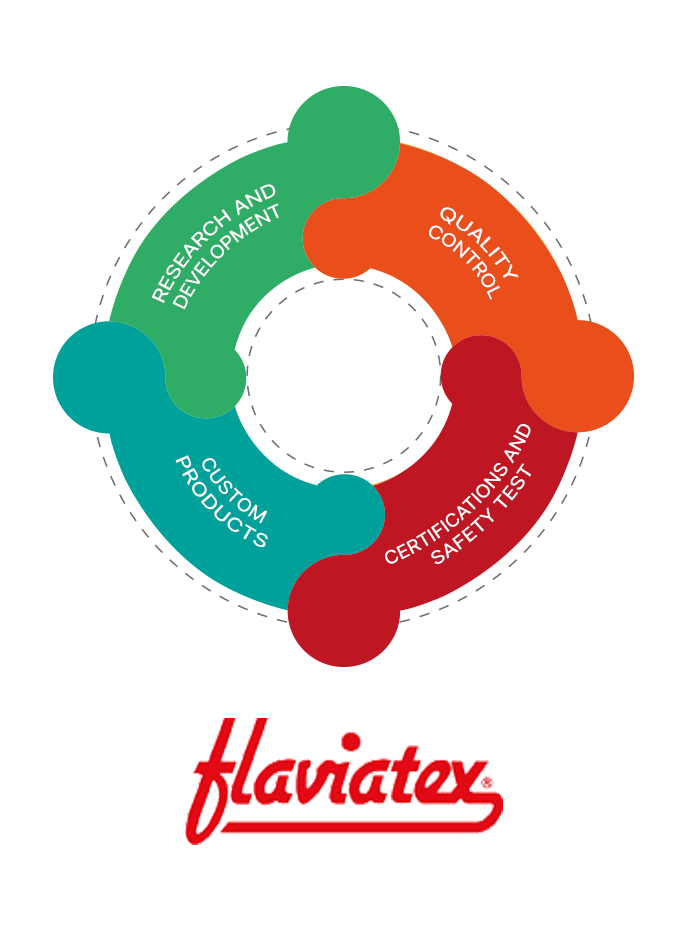 Research and development
The study is accurate from the initial research of trends, to the creation of graphic sketches/artworks, up to the final definition of the item and its packaging, and finally to the delivery of the finished product.

Quality control
Each stage of production is followed by strict inspection protocols during and at the end of the production process, which are certified by leading international quality control companies.

Certifications-Performance & Safety Test
The company is careful to the quality standards and the current rules in terms of safety and health by renewing every year the textile and health certification.

Customizations
We also boast an internal studio that deals with decoration /customization for example for sports teams and professional athletes